FujinogensuiYamanakako Factory
We bestow on you the blessings of Mt. Fuji
Natural mineral water is ground water with natural mineral components added. It contains the natural blessings of Mt. Fuji
Non-thermal manufacturing method
We employ a non-thermal manufacturing method, which means we do not heat water during the manufacturing process.  We keep the natural balance of the original water through the non-thermal sterilization of the water during the manufacturing process.
Soft water at hardness level of 39.8
Fujinogensui Co.Ltd. provides soft water at a hardness level of 39.8. "Soft water" has the characteristic of being sweet, mild, and pleasant to the palate.
What is natural mineral water?
There are big differences in standards* for indicating natural mineral water between Japan and the EU. One particularly significant difference is that in Japan water can be indicated as natural mineral water even when it is heat-sterilized, while in the EU, only water that has not been processed using heat-sterilization or filtration qualifies as natural mineral water.

*Japan : Mineral water etc. (bottled drink) Label requirement guidelines,  Ministry of Agriculture, Forestry and Fisheries Food and Marketing Bureau 2/17/1995 revision

EU:CODEX STANDARD FOR NATURAL MINERAL WATERS (CODEX Alimentarius International food standards)
What is the non-thermal manufacturing method?
At the Fujinogensui factory, we employ a septic filling system using the non-thermal manufacturing method, without heat-sterilizing the water, as the raw water is already of a significantly high quality. By employing the non-thermal manufacturing method, the original taste of natural water can be enjoyed without losing the natural minerals, oxygen and carbon dioxide gas originally contained in the raw water, and which are components of the delicious water.
About Fujinogensui Co.Ltd.
Fujinogensui Co. Ltd. was founded with the intention of providing natural water rich in minerals that exists in nature without heat or chlorine-based sterilization, and thus contributing to the extension of healthy life expectancy. It has done this by acquiring permission to bore wells and collect water from the area around Mt. Fuji.
Acquisition of ISO22000 Certification
At Fuji Sun Sui, we have acquired the "International Standard Food Safety Management System – ISO22000:2018" as a necessary certification provided to our customers in regard to the production of mineral water, establishing its safety and reliability.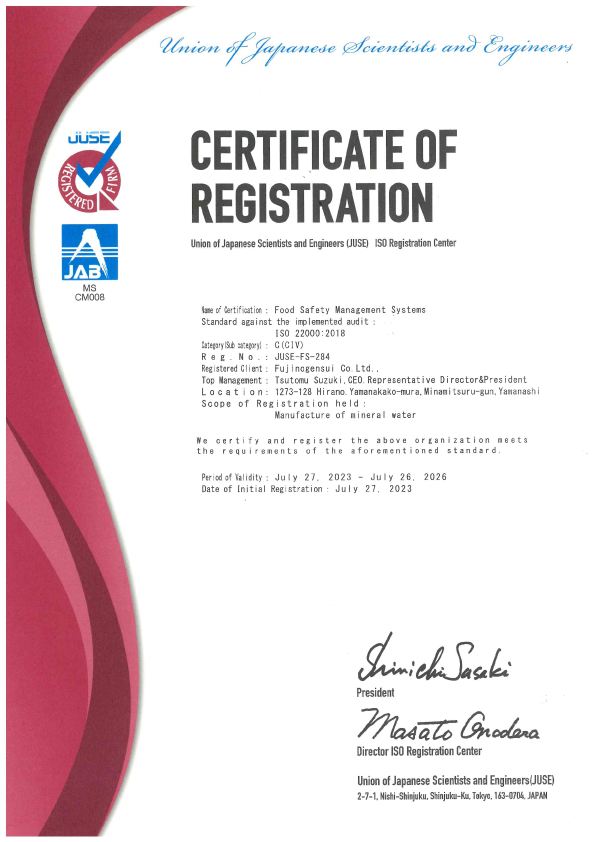 Private brand products from Fujinogensui Co. Ltd.
FUJI SUN SUI 500ml
Private brand products from Fujinogensui Co. Ltd.
FUJI SUN SUI 500ml
Private brand products from Fujinogensui Co. Ltd.
富士山水(FUJI SUN SUI) 500ml
Private brand products from Fujinogensui Co. Ltd.
富士山水(FUJI SUN SUI) 500ml