Address of the head office
1825-4-109 Hirano, Yamanakako-mura, Minami-tsuru-gun, Yamanashi prefecture
1273-128 Hirano, Yamanakako-mura, Minami-tsuru-gun, Yamanashi prefecture
+81-555-65-6155
+81-555-25-6744
Bottling, manufacturing, and sales of mineral water
ISO22000:2018(Food Safety Management Systems)

Mizuho Bank, Ltd.
The Shoko Chukin Bank,Ltd.
Japan Finance Corporation

KOKUBU GROUP CORP.
Mitsubishi Shokuhin Co., LTD.
KATO SANGYO CO.,LTD.
Joyo Suisan CO.,LTD.

Company name
Fujinogensui Co. Ltd.
Foundation date
October 5, 2017
Address of the head office
1825-4-109 Hirano, Yamanakako-mura, Minami-tsuru-gun, Yamanashi prefecture
Address of the Factory
1273-128 Hirano, Yamanakako-mura, Minami-tsuru-gun, Yamanashi prefecture
Capital
34,000,000 yen
Phone
+81-555-65-6155
Business content
Bottling, manufacturing, and sales of mineral water
Executive officers
and
operating officers
Representative director  Tsutomu Suzuki
Managing Director  Yuichiro Suzuki
Director    Ryuichi Saito
Director    Kuniko Suzuki
Associate senior corporate executive office  Kazuhiko Oohara
Advisor    Itsuhiko Saeki
Speech from the Representative Director
Representative director


Tsutomu Suzuki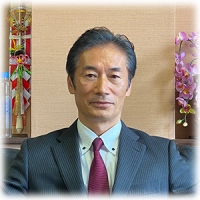 History of Representative Director
After working as an Iwama City staff member and Iwamamachi parliamentary representative, he became Representative Director at Ibaraki Fudosan Co. Ltd. Representative Director at Fujinogensui Co. Ltd.
 The life expectancy of Japanese people is of the highest level in the world. Unfortunately, however, our healthy life expectancy is a decade shorter than our total life expectancy.  I believe healthy life expectancy, where we do not depend on others and live without nursing care services, should be our true life expectancy. That is why I started to tackle the problem of what we can do to extend our healthy life expectancy which is at the core of human happiness.  What I found out is that reactive oxygen species and our intestinal environment are a major cause of dementia and can shorten healthy life expectancy. A main cause of these problems is the quality of our water, which makes up 60% of the human body, so the quality of the water we drink is the key to solving these problems. I acquired permission to bore wells and collect  water around the Mt. Fuji area, and founded Fujinogensui Co., to provide natural water to the market, which is rich in minerals that exist in nature without heat or chlorine-based sterilization. It is my pleasure to announce to you that we will keep working based on our corporate philosophy that "Fujinogensui Co. Ltd. is contributing to the improvement of the health of humankind by providing the valuable resource of natural water."